(WGEM) -- Are you tweeting? So are we! You can follow the entire WGEM News team on Twitter!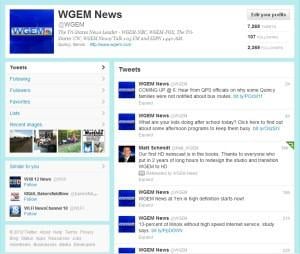 If you're already on Twitter, simply click on the links below for WGEM related Twitter pages and start following today! If you haven't signed up yet, click here to sign up for your own Twitter page Then, click on "Find People" and type "WGEM". You'll see our link and you can begin following WGEM News on Twitter.
It's a great way to keep up on the latest local headines, as well as interact with the WGEM News Team.
You'll find links below for the WGEM News page, along with staff pages. Hope to hear from you soon on Twitter!