Illinois bill looks to take on California tech 'monopoly'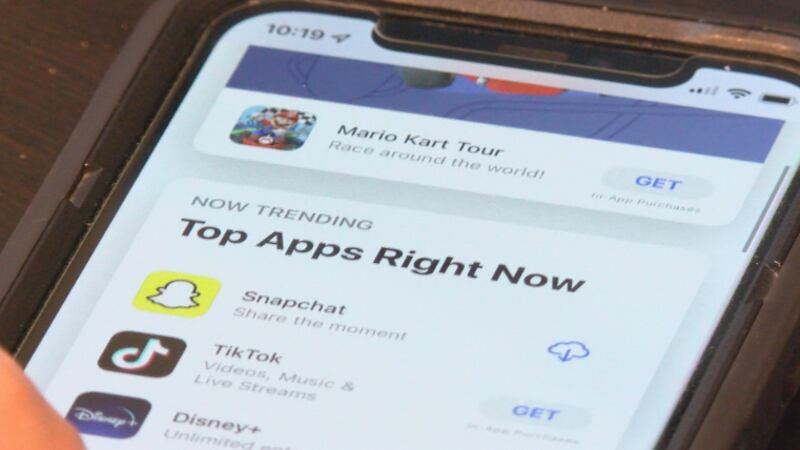 Published: Jan. 19, 2022 at 3:43 PM CST
QUINCY (WGEM) - Illinois state senators have filed a bill aimed at stopping tech giants like Apple and Google from taking a cut of profits from Illinois app developers.
Currently, whenever an in-app purchase is made through Apple or Google's payment service, they take a 30% cut of the profit. App providers aren't allowed to use other payment services without the risk of being taken off the platform.
Some companies are allowed to bypass the 30% cut, like Uber or McDonalds to order from their websites. Services like dating apps, premium music subscriptions, and games are subject to the cut. So are digital news subscriptions when done through the app.
The Freedom to Subscribe Directly Act would prohibit Apple and Google from requiring developers to use their app stores to sell their products and services.
Illinois-based software company Basecamp is one of the advocates for the proposal. Chief Technology Officer and Co-founder David Heinemeier-Hansson said Apple threatened his company with not allowing their new email service to launch on the Apple app store if Basecamp did not use their payment service.
"Apple demanded we sell our new service through their payment processor, so they could take their 30% cut, or we'd be thrown out of the app store." Heinemeier-Hansson said.
"Basecamp might have among the few companies willing to speak up but we are far from the only ones dealing with these oppressive regimes," he continued.
Similar bills are proposed in nine state legislatures across the country: Florida, Georgia, Hawaii, Massachusetts, New York, North Carolina, and North Dakota. A similar bill was introduced in the US Senate as well, with bipartisan support.
For Illinois, there are three main interests in this policy.
Increasing corporate tax revenues
When a 30% cut is taken by Apple and Google, the corporate tax revenue goes to their base states of California.
Senator Sara Feigenholtz (D - Chicago) wants that tax revenue to go back to Illinois.
"As we try to modernize our revenue base, we as a state must tap into lost revenues," Feigenholtz said. "We need to keep big tech in check."
In 2021, Apple and Google reported $110 billion in revenue from their app stores. Estimating that Illinois provides 1% of app sales nationwide, Illinois lost out on $1 billion in tax revenue, Feigenholtz said.
Senator Robert Peters (D - Chicago) calls Google and Apple a "middleman," charging a fee to allow app developers to connect with consumers. the current system, he says, siphons money from residents into large corporate accounts "in the Caymans."
Growing Illinois' tech industry
Peters sees the bill as an opportunity for economic development in Illinois that isn't based on tax cuts. instead, he argues it protects growing Illinois businesses.
"This is a good first step to protect Illinois businesses and consumers from monopoly control that prevents small developers from connecting with people directly," Peters said.
Instead of a 30% cut going to Apple or Google, the legislation would allow app developers to use other third-party payment services, like Paypal or Stripe, or work on developing their own.
Several tech companies are in support of the legislation, according to a press release. Some are not based in Illinois. The Match Group, responsible for the Match.com dating site, supports the bill but is based in Texas.
The only Illinois tech company mentioned in support of the bill so far is Basecamp, which offers its own email provider as well as business management software for working remotely.
Supporting local news
As more newspapers and news organizations move towards a digital audience, their subscription fees are subject to the 30% cut taken by Apple and Google.
The money taken from them, Senator Steve Stadelman (D - Rockford) argued, could be vital to supporting local newsrooms.
"That's a significant amount of money that could be used to help staff newsrooms," Stadleman said. "Local news operations have already lost a lot of advertising money to tech companies, I think this is one way to make that playing field more fair."
Local news organizations, especially papers, have struggled in recent years as the rise in digital technology leads to less and less people picking up a paper. Thousands of newspapers across the country have shut down, and many others have made cuts in the newsroom.
As a former reporter, Stadelman said the closing of local newsrooms is "causes concerns about the democratic process."
"If no one is covering local city councils or school boards, how will people get the information they need to make informed decisions," he said.
Copyright 2022 WGEM. All rights reserved.