Missouri beats Utah St. for 1st March Madness win since 2010
Missouri used a second-half scoring spurt from Kobe Brown to win its first NCAA Tournament game in 13 years, beating Utah State 76-65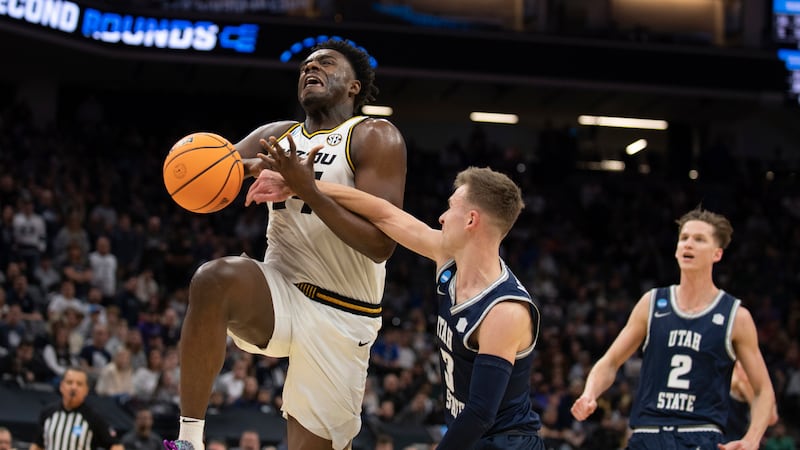 Published: Mar. 16, 2023 at 2:59 PM CDT
SACRAMENTO, Calif. (AP) — Missouri used a second-half scoring spurt from Kobe Brown to win its first NCAA Tournament game in 13 years, beating Utah State 76-65 on Thursday.
Brown hit three 3-pointers in a span of just over three minutes to fuel a 13-2 run that turned a two-point deficit into a 62-53 lead.
The seventh-seeded Tigers (25-9) held on from there, stopping a six-game tournament skid with their first win since beating Clemson in the first round in 2010.
Missouri advanced to play the winner of the Arizona-Princeton game in the second round of the South Region.
The 10th-seeded Aggies (26-9) have dropped their last 10 tournament games since beating Ohio State in the first round in 2001. The loss was also the 11th straight for a Mountain West team in the NCAAs.
The game was close for most of the second half until Brown and D'Moi Hodge took it over midway through the second half by scoring 20 straight points for the Tigers.
Brown started the stretch with a dunk, followed by three straight 3s. Hodge took over from there by hitting twice from long range around a dunk of his own.
Hodge scored 23 points for the Tigers. Brown had 19.
Taylor Funk scored 16 to lead Utah State and Steven Ashworth added 12. The Aggies shot 4 for 24 from 3-point range.
The Aggies got off to a sloppy start with six turnovers in the first six minutes but still only trailed 35-31 at the half despite missing all 11 attempts from 3-point range.
They missed their first two from long range in the second half before Ashworth finally made a 3-pointer.
BIG PICTURE
Utah State: The frustration for the Aggies was evident when they got called for a bench technical when one of the reserves argued a no-call midway through the second half. Coach Dave Odom heatedly argued the call before getting restrained by an assistant. Nick Honor missed both free throws for Missouri.
Missouri: The Tigers played without team captain Tre Gomillion, who injured his groin during the SEC tournament. If he is able to return next round, that would provide a big boost.
UP NEXT
The Tigers will be looking to advance past the first weekend of the tournament for the first time since 2009 when they went to the Elite Eight.
___
AP March Madness coverage: https://apnews.com/hub/march-madness and bracket: https://apnews.com/hub/ncaa-mens-bracket and https://apnews.com/hub/ap-top-25-college-basketball-poll and https://twitter.com/AP_Top25