Sen. Josh Hawley: "I don't think the problem is law abiding gun owners"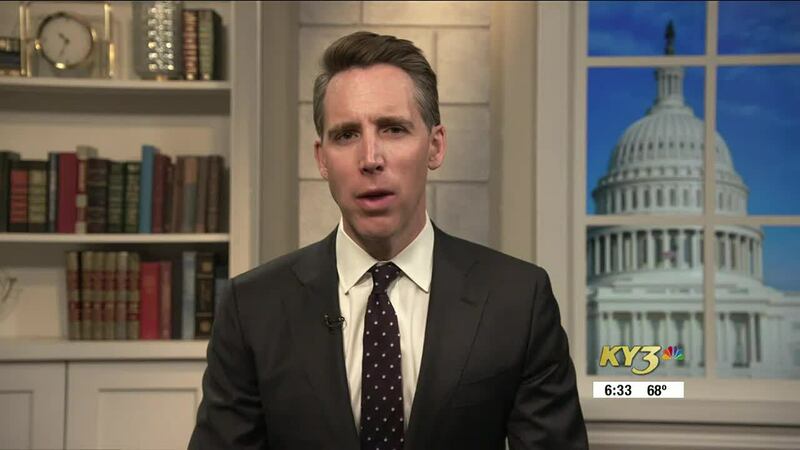 Published: Apr. 20, 2023 at 8:28 AM CDT
WASHINGTON, D.C. (KY3) - Sixteen-year-old Ralph Yarl is back home one week after being shot in the arm and head while trying to pick up his siblings in north Kansas City. He knocked on the door at the wrong address. The homeowner, Andrew Lester, pleaded not guilty to charges of armed criminal action and first-degree assault.
Sen. Josh Hawley is from the Kansas City area. He is praising the Clay County prosecutor for pressing charges.
"I think it's terrible, and I'm glad that the Clay County prosecutor has decided to charge this crime," said Sen. Hawley. "My thought is that we're seeing crimes of violence like this all across that city, all across the state, and all across the country. There's just another case, I think, in New York state of a young girl, about the age, who turned into somebody's driveway, wrong driveway, and was shot. It's part of the trend of violent crime, whether it's knifings, carjacking, firearms, we're seeing it all across the country."
Many are saying deep-rooted racism and relaxed gun laws, like Missouri's stand-your-ground law, are contributing factors to this shooting. Senator Hawley disagrees.
"I don't think the problem is law-abiding gun owners," said Sen. Hawley. "I think the problem is criminals who go and shoot people, whether it's at somebody's ringing the doorbell, whether it's somebody like we saw on the streets of St. Louis, where you had a homeless man executed in broad daylight. The criminal put a gun to the back of his head and fired. I'm sure you've seen that video. The whole nation has seen that video. We're seeing that kind of violence everywhere, and the common thread is when you don't prosecute people who commit a crime, you get more crime, and what we've seen in city after city, all across the country."
Yarl is expected to make a full recovery. Senator Hawley said he has not reached out to him.
To report a correction or typo, please email digitalnews@ky3.com
Copyright 2023 KY3. All rights reserved.