Unsettled Start to the Work Week
Published: Aug. 6, 2023 at 11:05 PM CDT
QUINCY (WGEM) - Showers and possibly a few thunderstorms will linger into the Monday morning commute. It will be a wise idea to bring an umbrella to work, as well as run the wind shield wipers on Monday morning - especially east of the Mississippi River. Clouds will be slow to move out of the region, which will hold temperatures below 80 degrees for nearly everyone across the tri-states.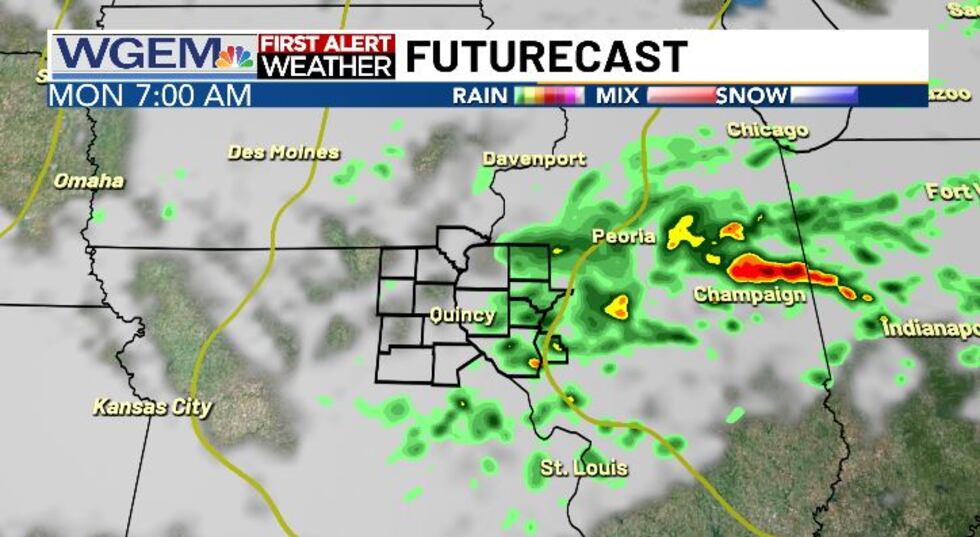 Skies begin to clear-out late on Monday, making for comfortable conditions heading into Monday night. Tuesday will feature mainly sunny skies and temperatures back into the low to mid 80s - closer to seasonal averages for this time of year. Tuesday will be a perfect day to take the kids out to the pool one last time before the beginning of the new school year, just be sure to bring the sunscreen and regularly reapply it. We see more scattered thunderstorms on Wednesday, a few of which could be particularly strong. It is a good idea to have a plan in place to head indoors in the event of a thunderstorm. The second half of the week looks mainly dry with highs near average in the mid 80s. There is no signal for intense heat through mid-August, rather the tri-states is likely to run near or slightly below average in terms of temperatures over the next 8-14 days. With that said, through August, we will begin to notice the days get shorter as we get closer to Fall Equinox in about 6 weeks. In addition, the sun's angle in the sky lowers and the sun's intensity decreases from late June through Late December, so it will progressively get harder to see intense heat and long duration heat waves as we head through the last 6 weeks of summer.
Copyright 2023 WGEM. All rights reserved.