Severe thunderstorms possible on Wednesday
Published: Aug. 8, 2023 at 5:56 PM CDT
QUINCY (WGEM) - Wednesday will start on a dry note, albeit a cloudy one. Rain and thunderstorms will likely hold off until after the morning commute, but it is still a good idea to bring an umbrella and wear the rain boots to work. Thunderstorms will roll in from west-to-east beginning mid-morning, and by noon, most of everyone will be dodging the rain.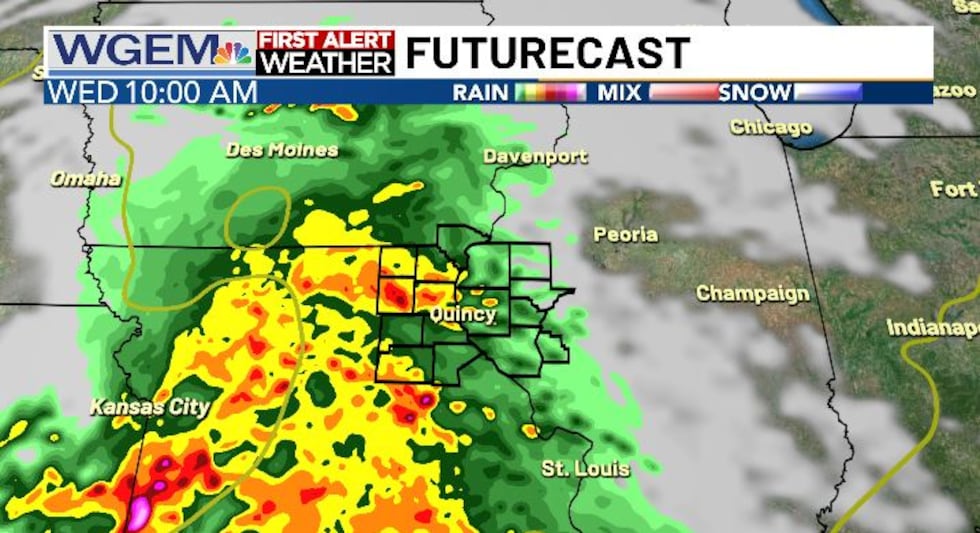 Almost as soon as Wednesday's storms move in, our severe threat begins. The main timing of the severe weather potential lasts from late in the morning, through the afternoon, and wraps up early Wednesday evening. However, showers and thunderstorms are likely to linger past sunset, with gradual clearing by Thursday morning. Much of the tri-states is still under a level 1 of 5 risk for severe weather, with Monroe and Ralls Counties in northeast Missouri being under a level 2 of 5 risk. Our biggest concerns with Wednesday's severe weather potential are large hail, damaging winds, and localized flash flooding.
Rainfall totals are expected to be mainly uniform across our area, with many places forecast to see anywhere between a quarter of an inch and three quarters of an inch of rain by sunset Wednesday. A few of us across the tri-states may be able to pick up as much as an inch of rain, if enough stronger thunderstorms roll through our region. With all the rain that has fallen over the past week, a lot of places are likely to see a stark change in the drought monitor when it updates this Thursday.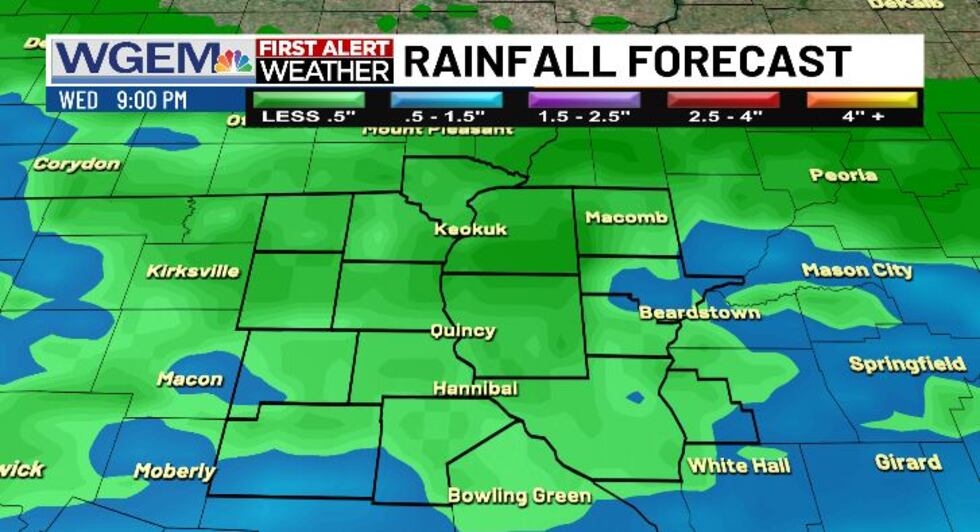 As we head into the second half of the work week, conditions will be dry and temperatures will rebound into the mid and upper 80s by Friday. Saturday features mixed clouds and sunshine with seasonable temperatures, and scattered thunderstorms are forecast to move in on Sunday. Temperatures fall back into the lower 80s by Monday as high pressure settles in, which means mainly sunny skies and slightly below average temperatures for the tri-states.
Copyright 2023 WGEM. All rights reserved.