Baring, Mo. tornado victims enter long-term recovery process Wednesday
Published: Aug. 9, 2023 at 6:57 PM CDT
EDINA, Mo. (WGEM) - It's been five days since an EF2 tornado ripped through Baring, Mo., a town of roughly 100 people. The twister put dozens out of their homes and now they're starting the process of long term recovery.
Only a few manned the weather Wednesday morning to continue cleanup while the rest of the town was in nearby Edina for the Multi-Agency Resource Center (MARC). More than a dozen agencies, local and national, were on-hand to help residents with everything from day-to-day supplies to what housing options they have now.
The Missouri State Emergency Management Agency Preparedness Division Manager, Melissa Friel, called it a "one stop shop" for survivors.
"We plan to set up what's called a long term recovery committee because disasters for survivors who are impacted is a marathon not a sprint," Friel said.
Friel said more agencies will come together once the committee is established. They'll then help effected residents until they get to their "new normal."
"It can take a year, it can take several years for families to recover," Friel said.
Around a dozen volunteers from the Adventist Community Services Disaster Response escorted each family to every agency. Elizabeth Hanks was one of the volunteers and said the tornado that wiped through Friday night was the worst disaster she's seen in her time as a volunteer.
"They're [residents] upset and they need to be comforted," Hanks said.
As of Monday, 35 homes were declared uninhabitable, but that could soon change, as insurance workers and contractors are assessing damage.
"I've spoken to a few residents who had rafter damage that they didn't even know was there and has been told their house is probably not safe," Knox County Emergency Management Director Bill Whiles said.
After Wednesday's MARC, Whiles said he'll have a better idea of what still needs to be taken care of. Wednesday's rain showers halted clean up efforts. Several houses were covered in tarps, and some houses that were standing a few days ago have already been torn down.
The pile of debris on the east side of town is also in a constant burn, as it used to stand several dozen feet high.
"It's been a whirlwind of about everything, but I think we're doing the best we can to just keep putting one step in front of the other," Whiles said.
Whiles said they're also working with the Department of Natural Resources to make sure debris is taken care of in a safe manner. Totes are also available at the Baring Firehouse. For the foreseeable future, meals will continue to be served there.
No serious injuries have been reported.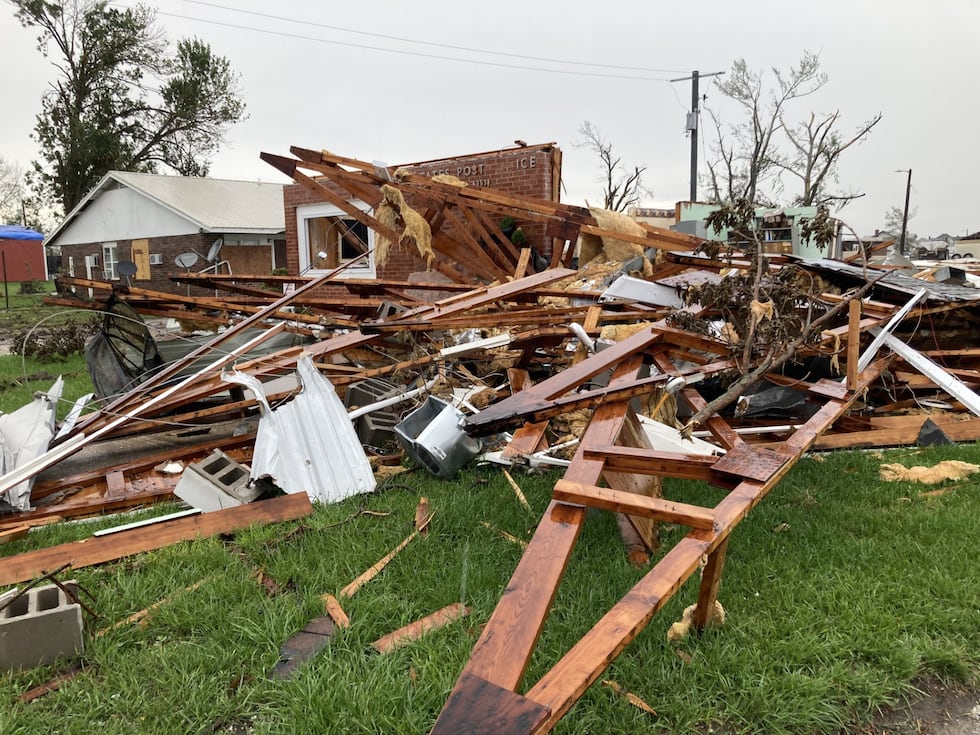 RELATED:
Copyright 2023 WGEM. All rights reserved.