First Alert for Friday; Drought Monitor Updated Across the Region
Published: Aug. 10, 2023 at 4:53 AM CDT
|
Updated: Aug. 10, 2023 at 8:19 PM CDT
QUINCY (WGEM) - Clouds will be on the increase from the west this evening but conditions look to remain dry at least for the first few hours after midnight. We'll see overnight lows in the upper-60s to lower 70s.
We are in First Alert on Friday, and there is a chance for a few scattered thunderstorms during the early morning hours, mainly between 3 AM and 8 AM. A few of these storms could be on the stronger side producing gusty winds and hail. Through Friday afternoon, skies partially clear, however, allowing for temperatures to climb into the upper-80s to lower-90s across the region with humid conditions in tow. The main threat for more substantive severe weather doesn't come until later Friday evening and overnight heading into your Saturday. The entire Tri-States region lies within a Threat Level 2 out of 5 for severe weather on Friday. Our main concerns with Friday evening's storms are large hail, damaging winds, and localized flash flooding, although a few tornadoes are also possible.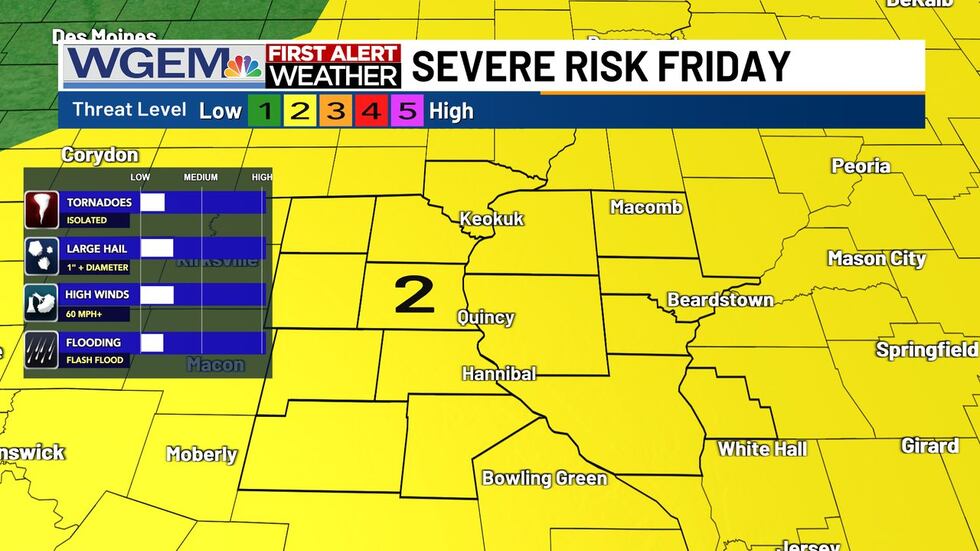 There is another chance for scattered thunderstorms Sunday, a few of which could again turn strong to severe. The start of the next work week kicks off with clearing skies and seasonably cool temperatures in the upper 70s to near 80.
The drought monitor was updated Thursday morning and there have been improvements in the drought across the tri-states.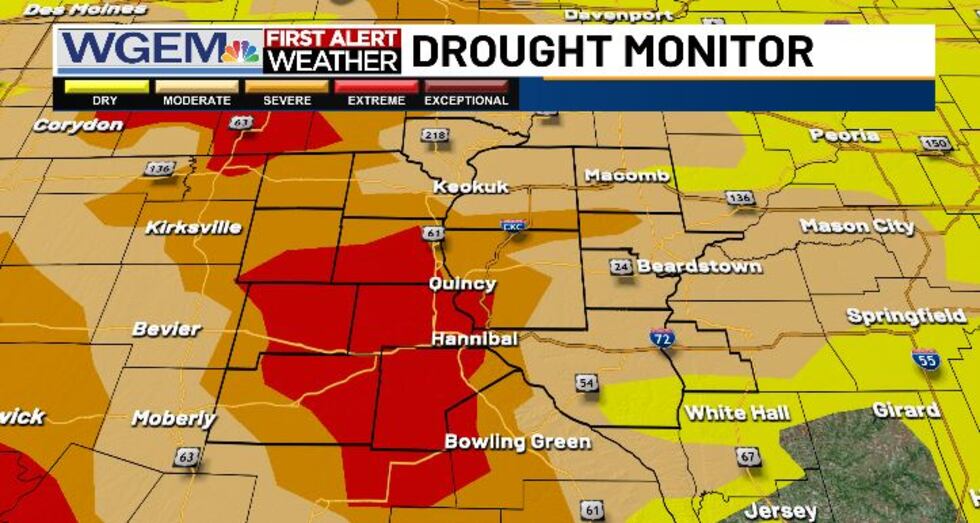 Most of the drought improvement was seen east of the Mississippi River, although the coverage of extreme drought in northeastern Missouri is beginning to shrink. A few places in the area have scaled-back enough of the drought to be placed in the "Abnormally Dry" category - the lowest level of drought. Rain accumulated on August 9th was not included in the August 10th drought monitor update and will be included in the August 17th update.
Copyright 2023 WGEM. All rights reserved.