First Alert: Severe T-Storm Risk Friday Night into Saturday Morning
Published: Aug. 11, 2023 at 8:49 AM CDT
|
Updated: Aug. 11, 2023 at 6:10 PM CDT
QUINCY (WGEM) - Expect some increase in mid to upper-level clouds as we go through the remainder of Friday evening. An approaching disturbance is expected to set off more robust thunderstorm development across northern Missouri and southern Iowa later tonight. The main threat for severe weather for the Tri-States is expected to begin once the sun goes down. Tonight's severe weather potential is why we have First Alert in effect today.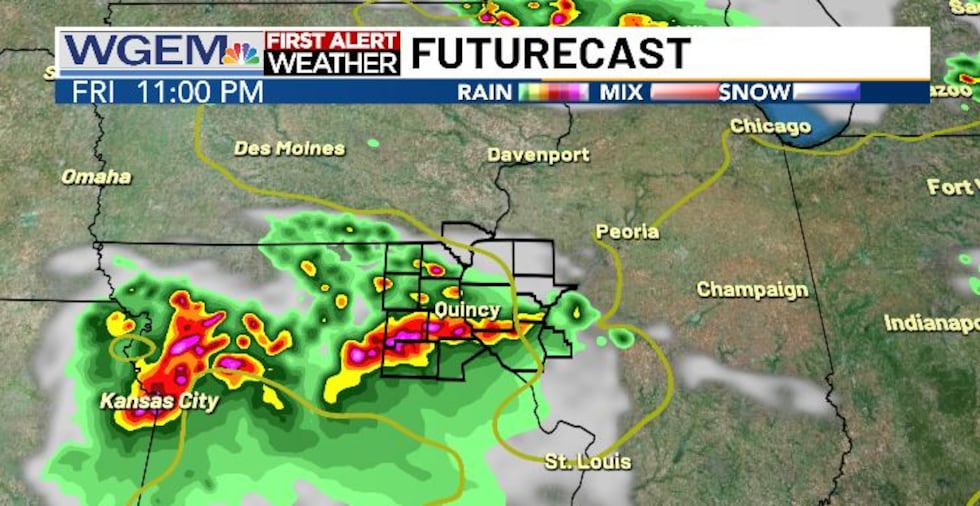 Scattered strong to severe thunderstorms are expected to impact the area after sunset and continue through the overnight. The aforementioned thunderstorms that initiate over southern Iowa and northern Missouri are expected to propagate ESE into the western portions of the Tri-States starting between 10 PM and 12 AM and they could intensify as they approach our region. Several rounds of thunderstorms are possible as the activity moves into west-central Illinois; most of the shower and thunderstorm activity is expected to end by 6-7 AM Saturday. Our main concerns with tonight's severe thunderstorm potential are damaging winds, large hail, flash flooding, and an isolated tornado. With that said, it is very important to stay weather aware and tune in to WGEM for any severe weather updates.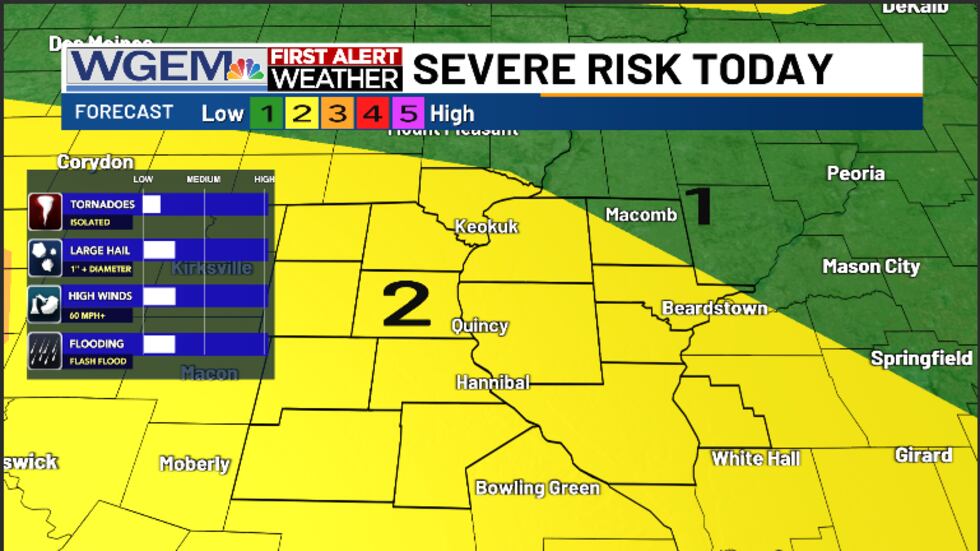 For Saturday, after seeing overnight lows in the upper-60s, we see a break in the active weather pattern with temperatures warming back to near normal. Conditions will be partly cloudy with highs in the mid to upper-80s. Sunday brings the chance for scattered thunderstorms back into the picture, but the severe threat Sunday looks minimal. High pressure settles into the region through the first half of next work week and we see abundant sunshine. Temperatures will also scale back into the upper 70s Monday and Tuesday, and there is a chance overnight lows could dip into the 50s early next week.
Copyright 2023 WGEM. All rights reserved.