First Alert to go into effect Sunday
Published: Aug. 18, 2023 at 5:34 PM CDT
QUINCY (WGEM) - Canadian wildfire smoke filtered into the tri-states Friday and will stick around into Saturday. Saturday morning, many across the tri-states will likely wake up to hazy sunshine. There is a chance that there may be enough smoke in the atmosphere that one can smell the wildfire smoke upon stepping outdoors. Be sure to stay hydrated during this time of decreased air quality.
Saturday kicks off our heatwave as highs hit 90 for some. High pressure will take a stronghold over the nation's heartland through a vast majority of next week, which will keep our rain chances "slim-to-none". Temperatures will exceed 95 on Sunday, which has triggered Excessive Heat Watches to be issued by the National Weather Service to go into effect Sunday afternoon, and last through Wednesday night. In addition, we go into First Alert Sunday and with excessive heat forecast through late next week, First Alert continues through Thursday.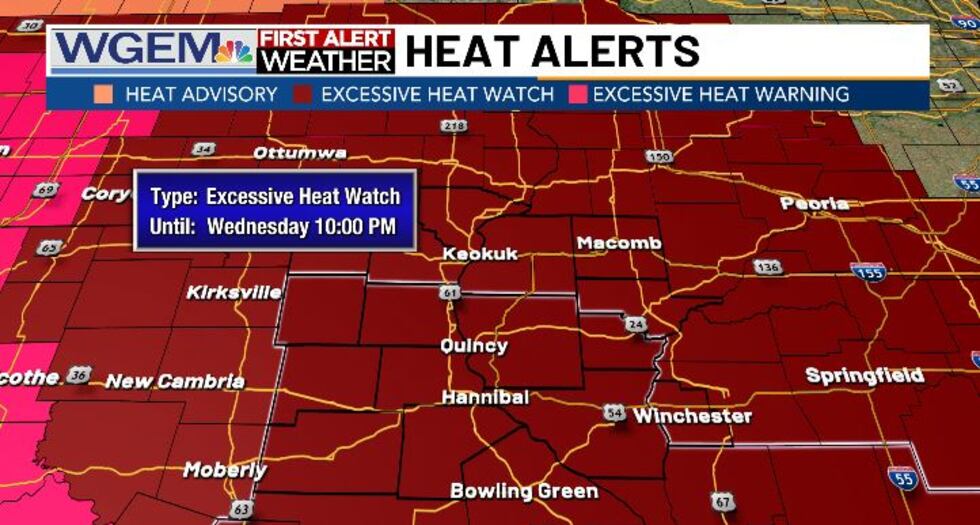 Temperatures continue to hover in the mid 90s through early next week under blazing sunshine, but the worst of our heatwave will come closer to the middle and second half of next week, as highs will approach 100 degrees. On top of that, dew points will starkly increase by next week - making it feel even hotter than what it will actually be. Dewpoints are expected to approach 75 degrees early and mid-next week and combined with air temperatures in the mid and upper 90s, heat indices could approach 110 degrees.
There is a chance the large dome of high pressure that will dominate the forecast weakens through late next week and into the weekend, bringing temperatures closer to normal. Through this long-duration heatwave, it's important to stay hydrated, check-in on children and the elderly, limit time outdoors, and look before you lock.
Copyright 2023 WGEM. All rights reserved.