First Alert goes into effect Sunday
Published: Aug. 19, 2023 at 9:49 PM CDT
QUINCY (WGEM) - An isolated shower or thunderstorm is possible through early Sunday morning. This will be the best chance for rain through the entire 7-10 day forecast as a very large high-pressure system will keep the Great Plains, Midwest, and Deep South very hot and dry.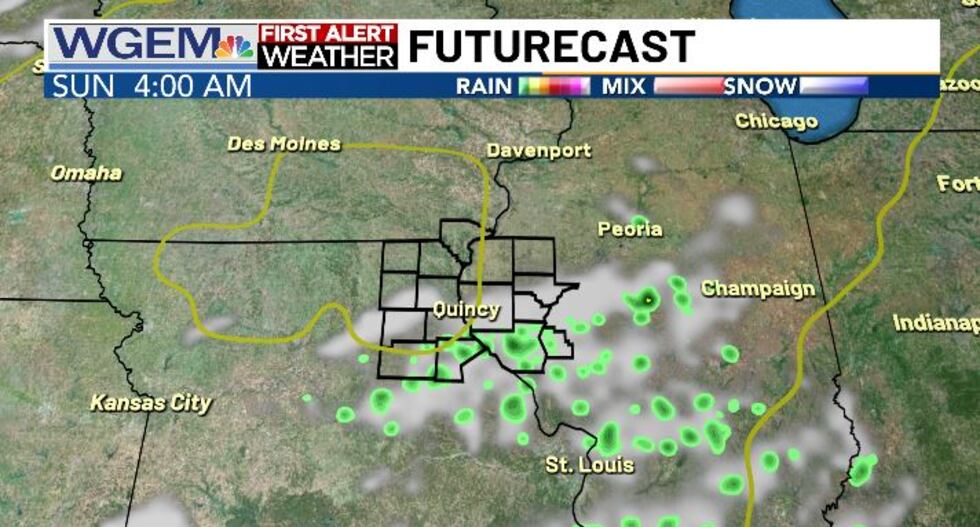 Sunday afternoon will feature blazing sunshine and temperatures above 95 degrees for much of the area. There are also Excessive Heat Warnings that go into effect Sunday afternoon and will last through Thursday night across the tri-states. Heat indices this upcoming work week are expected to exceed 110 degrees as dew points will rise well into the 70s, allowing for the air outside to feel much hotter than what it actually will be.
A few clouds will roll-in Monday, slightly holding temperatures down, but it will still be very hot - near 95 degrees. Clouds clear into mid-next week as high-pressure gets stronger, and daytime highs will make a run for the upper 90s Tuesday. The worst of the heatwave will likely hold off until Wednesday, when daytime highs will jump into the low 100s. Increased humidity values will make outdoor activities dangerous, so be sure to stay hydrated, seek as much air conditioning as possible, check-in on children and the elderly, and look before you lock.
Mainly sunny skies continue for Thursday as temperatures will still hover near the century mark. Our heat wave will begin to lose its edge Friday as daytime highs fall back to the mid 90s, but that is still 10-12 degrees above normal for this time of year.
The strong ridge of high-pressure will finally break-down Saturday as temperatures sharply drop to the low 80s, but sunshine will still dominate the region. Temperatures are expected to hold near average through next weekend, but there is no strong signal in a break from the dry weather pattern that is developing.
Copyright 2023 WGEM. All rights reserved.