Friday Football forecast and severe risk Friday night
Published: Aug. 25, 2023 at 1:31 PM CDT
QUINCY (WGEM) - Friday is the last day for First Alert, as our Excessive Heat Watches expire at 10pm Friday night. With that said, conditions will still be hot heading into the QHS vs QND kickoff.
A stalled front will stay to our north this evening, which should keep any showers or thunderstorms along and north of the northern tier of the tri-states. During the football game, it will be important to stay hydrated, as there will not be much wind to provide relief from the heat.
Overnight, the stalled front will sag southward into our region. This will bring the chance for a few thunderstorms, some of which could turn severe.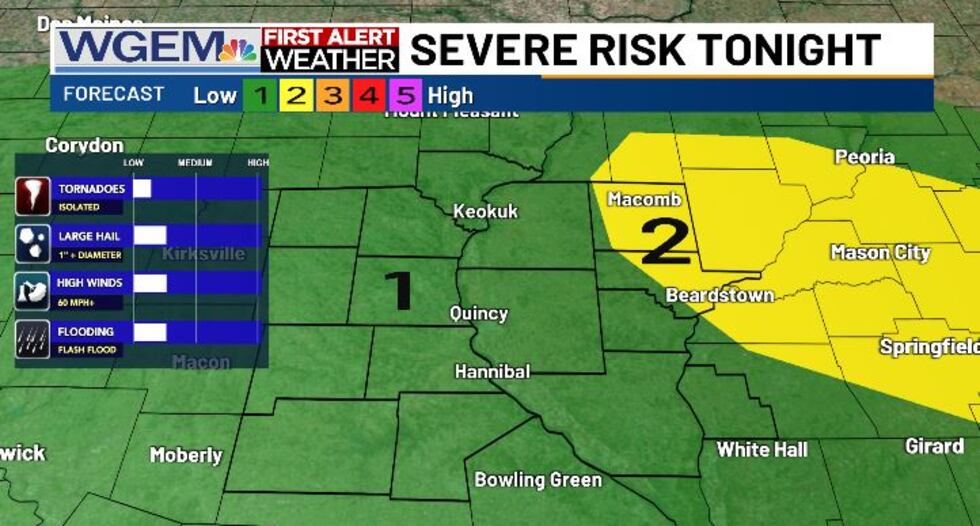 Most of the area is under a level 1 of 5 threat for severe weather, with McDonough and Schuyler Counties in west-central Illinois being under a level 2 of 5 threat for severe weather. Our main concerns with tonight's severe storm potential are flash flooding, high winds, large hail, and an isolated tornado.
Once tonight's storm threat diminishes, the front will push to our south, and we gradually clear out for Saturday. The main thing we will notice this weekend is the change of temperatures. Friday will feature highs near 100 degrees, but parts of the tri-states will struggle to reach 85 degrees on Saturday. Cooler weather continues into next work week with highs hovering in the low 80s and lows near 60. Abundant sunshine continues through much of next week, which will be bad news for farmers - especially as we are now approaching harvest.
Copyright 2023 WGEM. All rights reserved.