Labor Day forecast and the week ahead
Published: Sep. 3, 2023 at 9:01 PM CDT
QUINCY (WGEM) - With partly cloudy skies, temperatures will have no trouble rising through the 80s and near 90 degrees by noon on Labor Day.
For those working over the holiday, it will be smart to bring the sunglasses to work rather than an umbrella. Skies will be mainly sunny for the morning commute, but temperatures will be well-above average compared to normal for this time of year. Southerly winds will help to keep the tri-states a solid 10 degrees above average through the afternoon, making the unofficial end of summer feel quite "summery".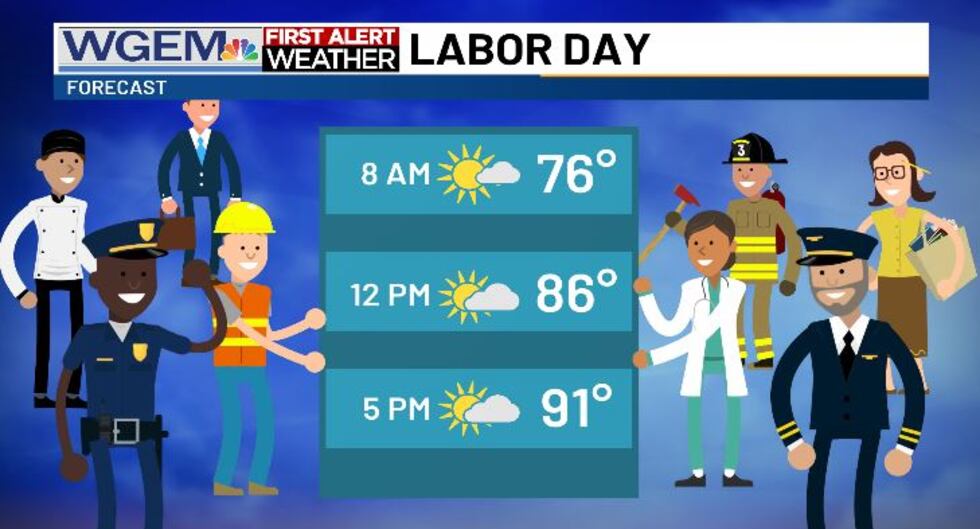 With hot and dry conditions in the cards for Labor Day, it will be the perfect day to do some outdoor grilling and swimming one last time to celebrate the unofficial end of summer. A cold front swings through the region late Tuesday and into Wednesday, ending the summer-like heat. Some scattered showers and thunderstorms are forecast overnight Tuesday and into early Wednesday morning. Temperatures drop back to near average late in the work week as sunshine returns to the area.
Through September, everyone across our neck of the woods will notice not only less daylight length, but also lower temperatures. In fact, September 11th is the last day Quincy averages a high of at least 80 degrees for the year. In addition, September 6th is the last day much of the tri-states average a low temperature at or above 60 degrees. On the last day of September, the average high is 73 degrees and the average low is 51 degrees.
Copyright 2023 WGEM. All rights reserved.