Increasing clouds on Sunday, showers arrive by Monday
Published: Sep. 9, 2023 at 11:05 PM CDT
QUINCY (WGEM) - High pressure just to our east will make way for abundant sunshine Sunday morning, so be sure to grab the sunglasses when heading to church. Conditions will also feel quite comfortable for most as temperatures will hover near 60 around 8 in the morning. Dew points early tomorrow morning will also hover near our low temperature, which could allow for patchy fog to develop for some. If fog develops over your area early Sunday morning, be sure to take it easy when on the roadways. Nevertheless, Sunday morning will feel quite comfortable.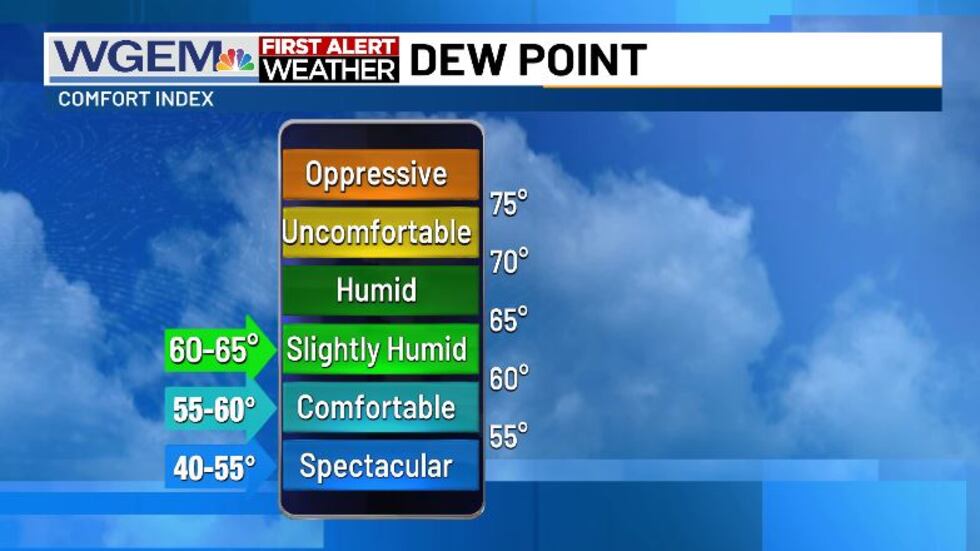 As the day progresses, our next rainmaker will approach from the west, giving way to partly cloudy skies through the early afternoon timeframe. Near sunset, most of the Tri-States will be under mainly cloudy skies, and a few showers are expected to loom just to the northwest of the viewing area. Those showers will try to move in after the sun goes down.
There may be a brief reprieve in the rain overnight before another wave of moisture slides into the region early Monday morning. Showers will return to the area just in time for the Monday morning commute, so be sure to bring the umbrella and have the windshield wipers going when driving to work. A cold front will accompany Monday morning's showers, which will help to hold temperatures a good 10-12 degrees below average for most of the area.
Overcast skies will continue through much of Monday with the chance of a few more showers. Skies will begin to clear Monday night, and high pressure will start to move into the region on Tuesday. Tuesday will start another dry stretch, but unlike we saw around Labor Day, temperatures will feel like Fall. Through all of next week and weekend, daytime highs will struggle to reach 75 and overnight lows could dip into the 40s across some locations. All-in-all, by the end of next week, a lot of Tri-State residents will likely be ready for the official start of Autumn, which begins on Sept 23rd.
Copyright 2023 WGEM. All rights reserved.