Overcast with a few showers on Wednesday
Published: Sep. 20, 2023 at 8:06 AM CDT
QUINCY (WGEM) - A mid-level low pressure is working its way into the Tri-States this Wednesday. This will lead to overcast skies throughout the day, which will hold temperatures near and slightly below average in the mid 70s.
As the disturbance nears our neck of the woods, a few showers will pop up near and along I-72 late this morning and early this afternoon. Later in the afternoon, some intermittent showers may develop across the eastern half of the Tri-States, which could mean a wet afternoon and evening commute for some.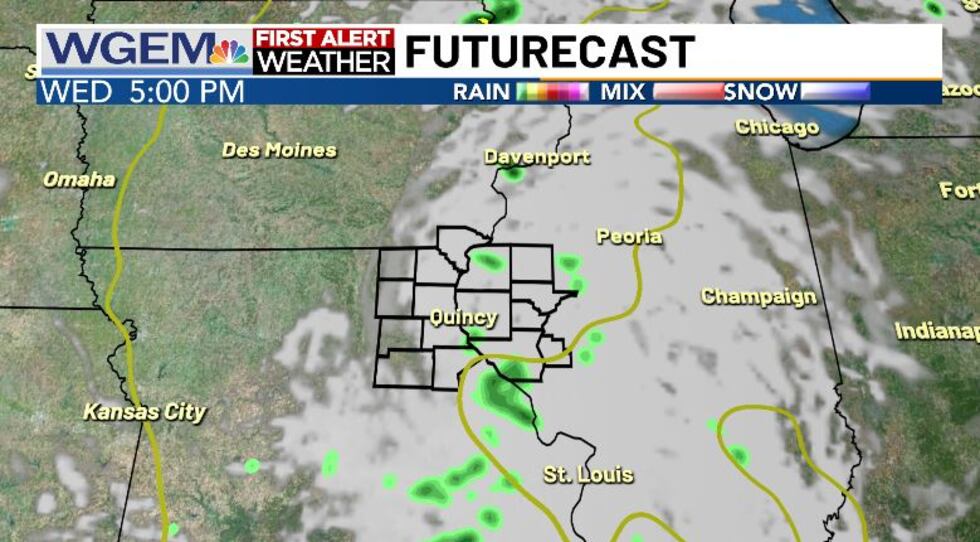 Although Wednesday will be dreary for most of the Tri-States, any rain that falls will be very beneficial for our ongoing drought. Therefore, our Wednesday's Weather Report Card shows high remarks.
As for the rest of the week, each of the next 7 days have a chance for rain, which is fantastic news for farmers dealing with this year's drought. With that said, there is the chance for scattered thunderstorms Saturday and Sunday, a few of which could be potent late Saturday and into early Sunday.
By early next week, temperatures will return to normal, which this time of the year is in the mid 70s.
This Wednesday's Weather Word is Autumn Equinox. It falls on September 23rd, and shortly thereafter, our nights get longer than our days. In fact, our nights will be longer than our days from September 26th, 2023 to March 16th, 2024. The days of the year when we see exactly 12 hours of day and night are known as an Equilux, which means equal light, and they are September 26th and March 17th. Therefore, our days are still slightly longer than our nights on the Autumn and Spring Equinox. The reason day will be longer than night on Autumn Equinox is because sunrise and sunset is defined by the moment the Sun's upper edge crosses the horizon, not the geometrical center of the Sun. That means the exact moment the uppermost edge of the Sun reaches above the horizon in the morning is sunrise. However, this also means that sunset does not officially occur until the uppermost edge of the Sun dips below the horizon in the evening. For context, sunrise on Autumn Equinox will be 6:54 am and sunset that day will be 7:01 pm, when the uppermost edge of the Sun crosses the horizon in the morning and evening, respectively.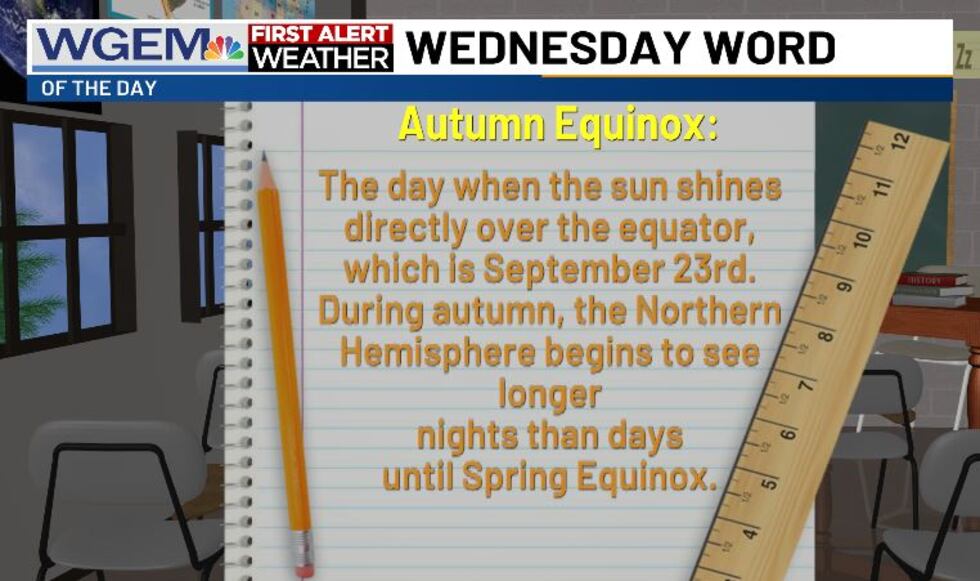 Copyright 2023 WGEM. All rights reserved.