Local sports journalist Matt Schuckman honored with IHSA media service award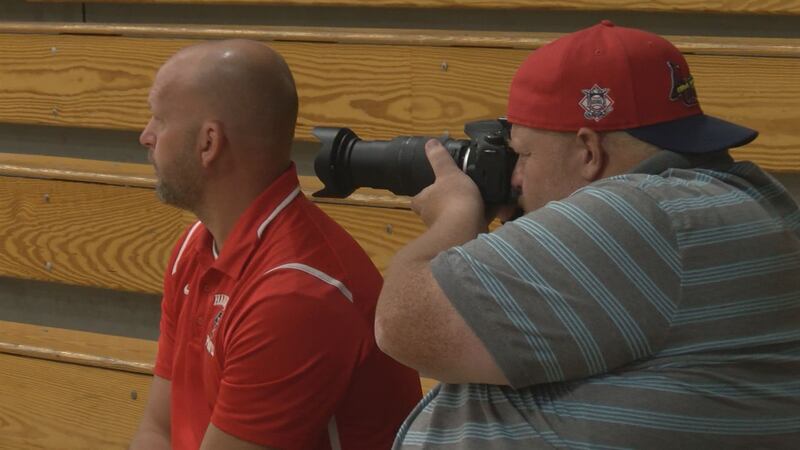 Published: Sep. 21, 2023 at 10:39 AM CDT
QUINCY (WGEM) - The Illinois High School Association (IHSA) announced Thursday its ninth class of recipients of the IHSA Distinguished Media Service Award.
Among the 2023-24 honorees was Matt Schuckman who has been covering sports in the Quincy area since 1999.
Matt Schuckman got his first byline in the newspaper as a high school student at Quincy High School, setting the stage for both the career and community he would cover sports in for nearly 30 years and counting. In addition to working part-time for the Quincy Herald-Whig in high school, he was the editor of the QHS student newspaper, Q-Review, and was involved in Student Council, Beta Club and National Honor Society.
He matriculated to the University of Missouri-Columbia to study Journalism and remained in Columbia after graduating when he landed his first job at the Daily Tribune.
"I grew up reading the newspaper on a daily basis and knew my freshman year of high school what I wanted to do for a career," said Schuckman. "I played football, baseball, basketball, etc., growing up and always loved sports. Former Quincy Herald-Whig sports editor Don Crim hired me as a part-time sports clerk in August 1989 and was influential in guiding me to the University of Missouri."
Schuckman followed his time at the Daily Tribune with a stint at Inside Mizzou Sports, before returning to his roots at the Quincy Herald-Whig, where he would serve as a sportswriter from 1999 to 2021.
When asked to name the top athletes, teams, or games he covered, he responded:
"There are too many to name. Covering the Quincy High School boys basketball program for a quarter-century and being trusted to write a book about the history of the program is incredibly special to me. Being able to tell the story of the 2023 Quincy Notre Dame baseball team's historic season and all it entailed tops the list."
Schuckman is the author of "Stand Up and Cheer: A Century of Blue Devils Basketball" and has won awards for his writing from the Illinois Press Association, the Illinois Associated Press Media Editors, the Missouri Press Association, and the Associated Press Sports Editors during his career.
He is a member of the Quincy Blue Devil Sports and Illinois Basketball Coaches Association Halls of Fame. He cites his wife Michelle and his parents, Jerry and Kathleen, for supporting his dream of being a sportswriter, while also identifying the significant impact former Quincy Herald-Whig sports editor Don Crim had on his career.
Schuckman will receive his award at 6:45 p.m. on Dec. 16 at Notre Dame High School in Quincy before tip-off of the varsity boys basketball game vs. Quincy High School.
Other recipients for 2023-24 include Kenny McReynolds, Steve Raymond, and Brian Reusch. McReynolds is a Chicagoland broadcast staple who has won five Emmys in his career, while Reusch has broadcast games on WCCI radio in Savanna for over 30 years. Raymond arrived in the Effingham area in 1999, where he continues to cover high school sports as the owner and publisher of the Effingham & Teutopolis News Report.
The IHSA Distinguished Media Service Award was created to recognize media members who have covered high school sports and activities in Illinois for a significant period of time, while maintaining perspective on the amateur events they report on.
"Congratulations to each of these gentlemen on this deserving honor," said IHSA Executive Director Craig Anderson. "Their contributions to high school sports in Illinois, and to their communities, is immeasurable. We know they are beloved figures within the areas and communities they provide coverage and look forward to having a special moment to honor each during the 2023-24 school year."
IHSA member schools submit nominations for the award, with McReynolds being nominated by Simeon Academy and Proviso East High School. Raymond was recognized by Teutopolis High School, while Reusch and Schuckman were tabbed by Erie High School and Quincy Notre Dame High School, respectively.
The IHSA's media advisory committee and a veteran committee of retired media members voted on the nominees. Those who received the required percentage of votes were named honorees with a limit of one winner per IHSA Board Division. Each winner will be honored at a high school event of their choosing during the 2023-24 school year.
"A vital element of this award is the recognition within the community," said IHSA Assistant Executive Director Matt Troha. "We look forward to seeing this year's winners being recognized in front of the students, coaches, and communities they have impacted with their exceptional work."
Copyright 2023 WGEM. All rights reserved.