Noticeably warmer today & tomorrow, before cold front arrives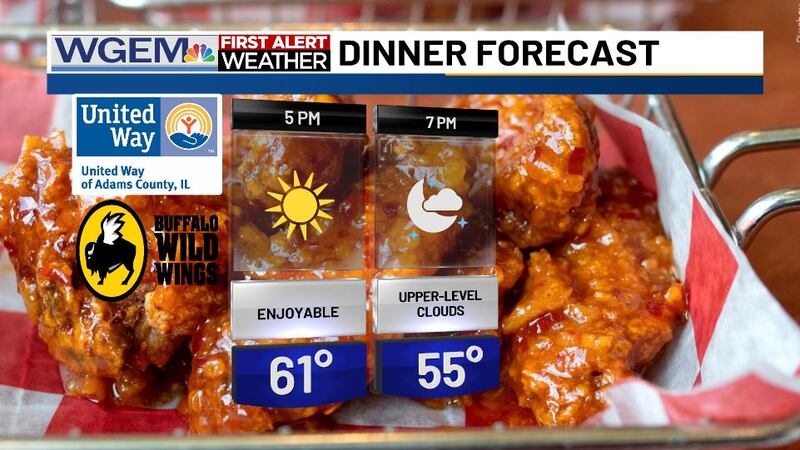 Published: Nov. 15, 2023 at 5:08 AM CST
|
Updated: Nov. 15, 2023 at 10:41 AM CST
QUINCY (WGEM) - The center of a large area of high pressure is over the east coast. However, as it extends westward into our region it continues to be the main forecast influencer. It is giving us another day with plentiful sunshine. By later this evening, some thin upper-level clouds will start to arrive. Those will probably come in unnoticed though, as they do not block out the sunlight. The sunshine and southerly winds will lead to noticeably warmer temperatures. Most will see highs in the upper 60s, but a few locations, such as Hannibal, may reach 70°. By tonight, we will have mostly clear skies with those thin upper-level clouds overhead. Lows will not be as chilly, as nighttime temperatures will range from the low to mid 40s.
Tomorrow will be another warm day for November. Highs will once again reach into the upper 60s. We will start off the day with sunshine. Then into the afternoon hours, thin upper-level clouds will start to arrive. More clouds will continue to increase into our area through the rest of the day, ahead of the approaching cold front. Winds will be out of the south and it will be breezy. We are looking for wind gusts of 20 - 30 mph. By tomorrow night, the anticipated cold front will swing through our region. As it comes through we are not really looking at a good rain chance. However, it may be able to squeeze out some sprinkles. Behind the front, cooler air will start to filter into the Tri-States. We are looking for a midnight high on Friday of about 59°. That would happen just after midnight and then slowly temperatures will fall through the rest of the day. Later that night, lows will be in the upper 20s. Highs on Saturday will feel more like November, in the mid 50s.
Copyright 2023 WGEM. All rights reserved.