Soggy start to the work week, with sunnier days ahead
Published: Nov. 19, 2023 at 11:29 PM CST
QUINCY (WGEM) - A developing low-pressure system to our southwest is approaching the area, and rain will develop through the early morning hours on Monday. It will be smart to bring a jacket and umbrella to work on Monday, as up to 3/4 of an inch of rain may fall for some and temperatures will struggle to get out of the mid 40s for most.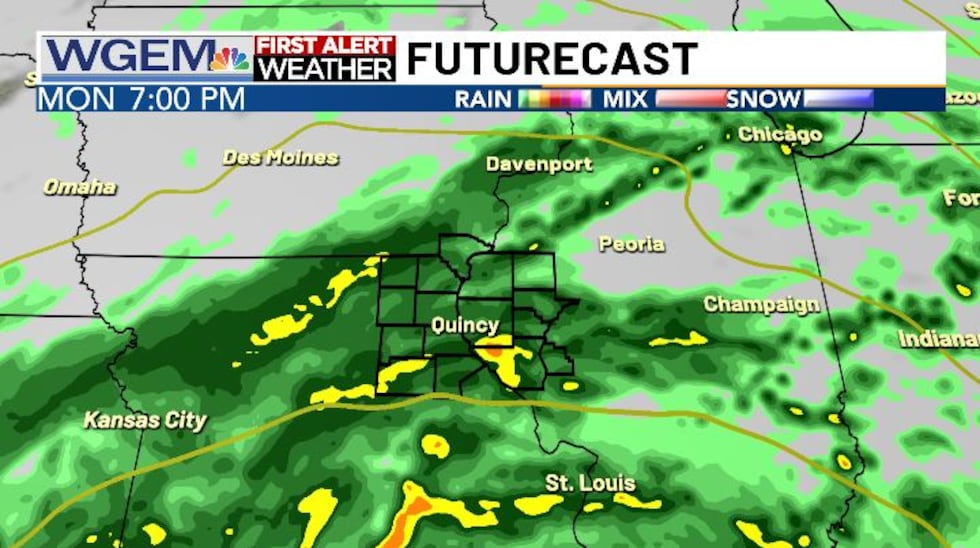 Rain will slowly diminish from west to east late Monday night and into early Tuesday morning. Behind that, breezy winds will blow from the northwest at 10-20 mph, gradually clearing us out and keeping us cool.
Thanksgiving travel plans look fine on Wednesday, as the Tri-States will see radiant sunshine and highs near normal in the upper 40s.
If you're heading to the East Coast on Wednesday, watch out for some airport delays. Monday's rainmaker across the Tri-States will be exiting the Eastern Seaboard Wednesday morning, dealing showers and thunderstorms to the Southeastern US, breezy weather to the Mid-Atlantic and even accumulating snow in the interior Northeast!
On Thanksgiving Day in the Tri-States, we'll be treated to bright sunshine with a side of a few clouds as temperatures top out near 50 degrees. Wear a coat if you're going Black Friday shopping - overnight lows Thursday night into Friday morning will be in the low to mid 30s.
Copyright 2023 WGEM. All rights reserved.